The 2023 Senior Colloquium was held in Pugh Auditorium on Wednesday, February 1, 2023.
---
History
Compiled by Ethel Kanoy in 1977: "In the first year of the Institute (1834) students organized a debating society. Soon after the opening of the second session in 1835, students organized two groups, the Euzelians and the Philomathesians. These two literary societies promoted debate and oratory at all special occasions of the college.
At first, all members of the senior class were expected to speak, unless excused by the faculty. In the early 1880s the number of speakers was fixed at 10; others in the class wrote a thesis. In 1899 the number of speakers was reduced to eight, in 1909 to six and in 1924 to four. In 1973 the Dean of the College reduced the number of speakers to three."
Today, 10 speakers give their orations at the Senior Colloquium.
Since 2010, the orations have been read by the authors at Founders' Day Convocation:
---
2023 Oration
"Through My Lens"
Kaitlyn Fox ('23)
---
2022 Oration
"Seized at the Root"
Bea Pearson ('22)
---
2021 Oration
"Heart of a Child"
Julianne Zhu ('21)
---
2020 Orations
"Living and Loving the Questions"
Celia Zhou ('20)
"Camaraderie in the Lounge"
Dylan King ('20)
"Building Community"
Grace Franzese ('20)
---
2019 Orations
"Forest for the Trees"
Sophie Hollis ('19)
"Love and Spreadsheets"
Bri Carney ('19)
"Dangerous Speech"
Anna Grace Guercio ('19)
---
2018 Orations
"The Value of Self-Awareness"
Rose O'Brien ('18)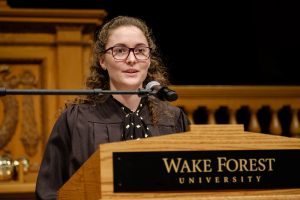 Just over two years ago, I began teaching English to adults who came to the United States as refugees. Although I have taught hundreds of classes over a two year period, there is one particular classroom story that I always remember and look back at with a laugh. It was a Friday morning in the downtown offices of refugee resettlement in Winston, and I had already been teaching for a year. My lesson plan was a shambles of copy-pasted clip art and irrelevant vocabulary. Having stayed up too late watching Netflix, I had neglected to give the plan sufficient attention, and my lesson reflected that. My students blew through the entire lesson plan in twenty painful minutes, after which I decided to switch to teaching the conditional. I prompted each student by saying "If I were… then I would…" and making lots of crazy, nondescript hand motions. Most were completely lost except for one student, who helpfully offered this correct sentence: "If I were teaching, I would do a better job than you."
In the moment, all I could say was, "Why, yes, that's correct." Read more
Learning "The Essence of Wake Forest"
Kyle Tatich ('18)
It's September 2013, I'm sitting at the kitchen table, reading the following prompt from the Wake Forest University application: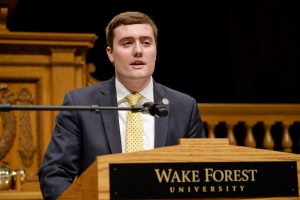 In the classic historical novel The Sword and the Stone, Merlin tells the future King Arthur: "The best thing is to learn something. That is the only thing that never fails." Later in the book he asks Arthur, "Have you learned anything?" to which Arthur replies, "I have learned and been happy."
Imagine it is your college commencement day. What will have transpired across the past four years to make you feel learned and happy?
WHEW! Talk about a thought-provoking college admissions essay! Read more
"Life Doesn't Frighten Me"
Allison Thompson ('18)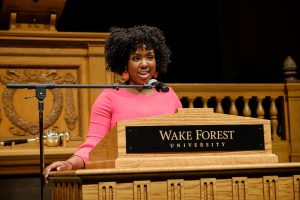 The public library in my hometown is the center of everything. When I was younger, the library was in the perfect location – 5 minutes away from my dad's job and 5 minutes from my mom's. As my parents worked long hours, the building where I waited to be picked up transformed into a wonderland. I learned how to spend time in libraries. I learned to perfect the art of playing hide and seek behind extra-large copies of Where the Wild Things Are. And I learned that the heftier Junie B. Jonesbooks would bring me much closer to the star reader award than my beloved picture books…and of course I had to be the star reader. The children's section of the public library with its Lysol scented whiff of Welcome Back was my impromptu after-school program and my refuge. So when mom dropped me off for my first semester at wake forest and whispered, "Tell me what the library is like." Well, I understood. Read more
---
2017 Orations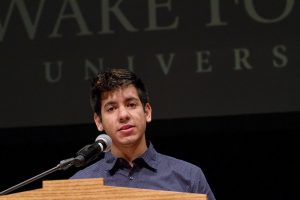 "What Are You"
Richard Caban-Cubero ('17)
I'm not sure when it began. What I do know is that: Once it starts, it doesn't go away.
"What are you?"
"What" – As if asking what "being" I am, as if trying to make sense of the physical characteristics of my skin, face, body – Foreign, alien, strange – something to make sense of. Read more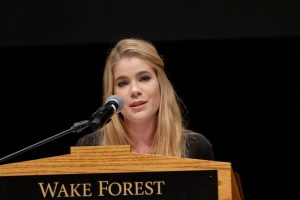 "Your Wake Forest 'I'"
Ashley Laughlin ('17)
My Creative Nonfiction Workshop was a lesson in both writing and introspection. The professor's frenetic cerebral energy stimulated our classroom often as we discussed contemporary nonfiction and the personal essays of our peers. "This piece has a strong 'I,'" our professor would say. He encouraged us to establish ourselves as the protagonist in our nonfiction stories, giving the reader insight not only into our voice, but also into our character. This narrator-character is known as the literary "I" in nonfiction writing, but it extends beyond the page. In writing a personal narrative, we conceive ourselves as a writer, and consider ourselves as a reader. By examining myself through a narrative lens, I have come to understand the person I have been my four years at Wake Forest. Read more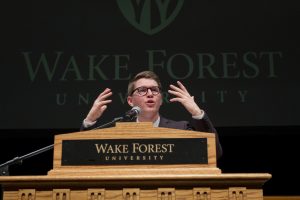 "I Hope You Dance"
Cameron Silvergate ('17)
"Prepare a three-minute self-choreographed dance to the song of your choice. You will perform your dance in front of the class on the first day of finals week. Best of luck." That was my final exam prompt for DCE 124: Social Dance. After weeks of preparation, my partner and I were ready. Not calm, but ready: like two seven-year-olds lying in wait on Christmas eve. Read more
---
2016 Orations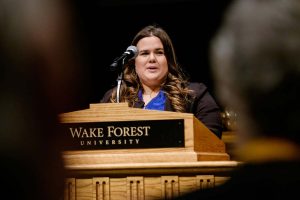 "Enzymatic Inclusion"
Sarah Fine ('16)
We are each here – alive and awake – because our bodies are maintaining a favorable environment for appropriate enzymatic activity. Enzymes are proteins that speed up reactions to rates that are fast enough to sustain life; essentially, enzymes make it possible for our bodies to transform what we have into what we need. Read more
"The Case for Generalism"
Robert "Tripp" Maloney ('16)
Even as I approach the end of my time here at Wake Forest, I sometimes find myself still asking, "Why am I here?" Leaving the existential side of that question to more philosophical minds, I look instead to the "why?" of the university as an institution. What is it for; what purpose does it serve? Given my background in linguistics, I am of course tempted to find a clue in the word "university" itself. The word's etymology is relatively simple, but the root meaning is nonetheless surprising. Universite, the Latin originator of our "university," translates to "the whole." Read more
"The Unexpected Chaos of Life as a Deac"
Aishwarya Nagar ('16)
To my younger brother,
I'm so excited that you'll come to see me graduate! You always ask me what my time at Wake Forest has been like, and I've finally found the words to do the explanation justice. I know that 11th grade, the IB program, and the SATs are really stressful for you, especially at our competitive international high school in New Delhi. I understand the chaos of your life in Delhi, full of after-school tutoring, cricket tournaments, and SAT prep courses – not to mention the inherent stress of growing up with our strict, Indian parents. You're looking forward to the great adventure of going to college – to experience the world and find some control, order, and self-made success in your life. Read more
---
2015 Orations
"The Airport Effect"
Robyn Lessans ('15)
Philosophy; Reisterstown, Md.
In high school I remember being so focused on becoming successful that I wanted to skip college altogether. I wanted to go straight on to law school so that I could start my life as an attorney. I was in quite a hurry. So much so that I once compared college to a long airport layover. You don't want to be there, you're probably in the middle of nowhere surrounded by a slew of strangers who are all too loud, or too offensive, or who are sniffling and sneezing and probably infectious and you're only interested in getting to your final destination. I call this "the airport effect", which in terminals and train stations is quite normal. If my experience demonstrates anything though, it is that this airport effect has permeated our society's educational system and I fear it has permeated other sacred spaces as well. Read more
"Context Clues"
Mary Somerville ('15)
Latin; Millers, Md.
I can pretty much guarantee you that I spent college un-learning most of what I thought was absolute in grade school. These four years have been fraught with challenges to my worldview, ranging from additions to my personal knowledge of literature, to the complete overhaul of my understanding of social interactions. As it turned out, I became increasingly interested in language through these years, so I pursued not only my major language, Latin, but also Greek, Italian, Cherokee, and Sanskrit, which opened up new knowledge of grammatical structures, vocabularies, literatures, and systems of logic underlying those languages. As a student of liberal arts, I also pursued minors in linguistics and religion; the classes I took for these minors taught me to step back from the cultural contexts that I had been so meticulously learning to understand. Read more
"What We Create in the Mind"
Sarah VanSickle ('15)
Religion; Waxhaw, N.C
Meetings with professors can often be intimidating – and for a variety of reasons. Maybe you received a bad grade or you are asking – ok, begging — for a 24-hour extension. For me, meetings with professors were intimidating because Wake faculty have the strange ability to hone in on the deeply personal questions that get right to the heart of the matter. I remember sitting across from Dr. Stephen Boyd in his office in the fall semester of 2013. I had just returned from Cherkassy, Ukraine where I had worked at an orphanage for three months to fulfill my internship requirement for my Religion and Public Engagement Concentration. Surrounded by books and important papers, he leaned back in his chair with his hands behind his head, looked at me, and asked in a gentle yet probing tone "But why do you care about this? What is it about Ukraine that makes you care?" Read more
---
2014 Orations
"The Lethe and the Liberal Arts: On Avoiding Chronological Snobbery and Remembering the Past"
Michael Hunter ('14)
Greek; Kernersville, NC
There is a tremor in both culture and higher education that threatens to become a rather major fault line. That tremor is arrogant intolerance. I say "arrogant" intolerance because not all intolerance is bad. For example, we are and should be intolerant of plagiarism and plagiarists in the academic community, as well as a great number of other evils. Arrogant intolerance, however, is a different matter entirely. Read more
"Broadening to Narrow: University's Paradox"
David J.W. Inczauskis ('14)
Spanish; Homer Glen, Ill.
Children, for all their naiveté, are particularly astute. They are credulous when it comes to certain matters, yet they ask very difficult and honest questions. Above all, children ask questions that begin with the pesky word why. "Why is the sky blue?" they think. "Why do trees lose their leaves in the fall?" they wonder. Or, a much more typical one in my household, "Why do you always burn the frozen pizza, ma?" Anyways, children's demands for causal knowledge — and their restlessness in the pursuit of i t — never cease to catch us off guard. Read more
"Who Is Wake Forest?"
Melvin Washington III ('14)
Political Science; Fort Lauderdale, Fla.
On the first floor of Carswell Hall; just before the Annenburg auditorium; there is a quote that goes sporadically noticed and seldom explored by the average student rushing to class. It is credited to Wake alumnus Ed Wilson and reads, "Long before we played football, edited publications, acted, or sang – in fact, almost before we studied, we of Wake Forest talked." And talked we have. Read more
---
2013 Orations
"Our Actions, Ourselves"
Joshua Courtney ('13)
Political Science; South Bend, IN
"I subconsciously observed this Wake Forest society in comparison with my old society, and we can call this a culture shock. However, one thing I noticed from the people here that strikes me the most remarkable is that everyone here walks with confidence. It was not until I arrived here then I realized that I often walked with my head down. Indeed, if I did not learn anything else from this university, it is confidence that I have gained." Read more
"What a Tapestry WE Weave"
Dean D. Guerra ('13)
Theatre; Cypress, TX
Dr. Maya Angelou once said, "We all should know that diversity makes for a rich tapestry, and we must understand that all the threads of the tapestry are equal in value no matter what their color." I grew up in a rich, colorful, beautiful tapestry of life. You may not realize it about me at first glance, but I grew up in a children's home in Texas with 27 girls. Some Mexican, Some Black, Some White, Some Vietnamese, Some Eritrean, Some Choctaw Indian. Read more
"The Confessions of A Show Dog"
Xinxin Zhang ('13)
Chemistry with Biochemistry; Lumberton, NC
"So what's your trick?" asked my fellow interviewee. I was sitting in the admissions office of X medical school at some indecent hour of the morning, paused in my unattractive inhalation of a croissant. "Mmf?" I asked intelligently, not quite sure what "trick" I was supposed to have. "You know, your difference trick," he replied. "What makes you different from the rest of the applicants." Read more
---
2012 Orations
"The Power to Strive Forward"
Hsien-Ching (Jean) Chen ('12)
Russian major; Taipei, Taiwan
"I subconsciously observed this Wake Forest society in comparison with my old society, and we can call this a culture shock. However, one thing I noticed from the people here that strikes me the most remarkable is that everyone here walks with confidence. It was not until I arrived here then I realized that I often walked with my head down. Indeed, if I did not learn anything else from this university, it is confidence that I have gained." Read more
"Don't Give Me an Education"
Amy Gardin ('12)
English major; Clemmons, NC
"I was used to easy As that didn't challenge my way of thinking. Now, I'm not saying that As are unheard of at Wake, but I know that I had to let go the need to define myself by good grades. I had to learn how to learn all over again. Once I did this, I discovered that the experiences and the new knowledge I gained were what truly made a class good for me, not whatever letter went on my transcript. However, that was a difficult lesson to learn as a hopeful young freshman." Read more
"Easy as Pi"
Brandon Turner ('12)
Biophysics major; Fontana, Calif.
"Rather, scientific discovery seems to be something like climbing an incredible mountain, with each step forward, each advance taking us closer to the top. For most things we simply haven't reached the top yet, we're more likely at the tree line. But there's nothing for me to fear in someday reaching the top, no beauty to be lost. In fact, it is only once we've reached the top, and are able to see the breathless view of the clouds surrounding us, and perhaps other, even taller mountains off in the horizon, that we can truly appreciate what a majestic piece of work the world is." Read more
---
2011 Orations
"Building Bridges at Home and Abroad"
Catherine (Cate) Berenato ('11)
English major; Blacksburg, Virginia
"If Wake Forest is to live up to its reputation as a preeminent national institution, we must demonstrate the "Pro Humanitate" spirit in each and every aspect of our community. We must continue to build bridges, not just to foreign countries, but to those who seem like foreigners in our midst. For the greatest knowledge is not solely learned in textbooks, but is enhanced and developed through our everyday interactions with all members of our Wake Forest family." Read more
"Application for the Class of 2011″
Ashley Gedraitis ('11)
English major; Peru, Illinois
"The challenges that Wake Forest has placed before me have undoubtedly made me a stronger, more capable human being. That is possibly the biggest testament to Wake Forest – it does not just turn out accounting majors, psychology majors, or English majors. It produces wholly educated individuals. And for that, Mother So Dear, I would like to thank you." Read more
"To Understand the World …"
Ava Petrash ('11)
Sociology major; Kensington, Maryland
"Reflecting on my almost four years here in Winston-Salem, I have come to realize that the 'Wake Forest bubble' is a myth. This place catapulted me out into society. It challenged me to create my own path and supported me as I shaped my worldview. As I prepare to spend the next year teaching in a low-income charter school in inner-city Boston, I am fully aware of the numerous gifts that my education has given me." Read more
---
2010 Orations
'The Fear We Do Not Understand'
Monica Giannone ('10)
"I have realized that overcoming this 'fear of the unknown' that I experienced for the first time on campus has come to shape my academic and scholarly pursuits. My professors, colleagues and friends have challenged me not to fear that which we do not understand, but instead to strive toward discovering the truth behind the foreign." Read more
'The Road Less Traveled'
Kate Miners ('10)
"Wake Forest has confirmed a life belief of mine. The easy road may be as its name suggests, but there are many things it is not. It's not challenging or interesting or engaging or exciting. So when you are faced with a choice, choose the challenge, choose the mountain, and you will never go back." Read more
'We are Wake Forest'
Zahir Rahman ('10)
"Our Wake Forest community is strengthened by our differences, but its foundation is built on our shared commonalties. Our passion for higher education. Our belief in Pro Humanitate. Our allegiance to the Old Gold and Black. While we claim different identities, we all share a common interest in Wake Forest." Read more