By Rose O'Brien ('18)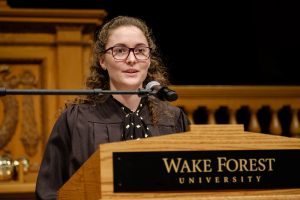 Just over two years ago, I began teaching English to adults who came to the United States as refugees. Although I have taught hundreds of classes over a two year period, there is one particular classroom story that I always remember and look back at with a laugh. It was a Friday morning in the downtown offices of refugee resettlement in Winston, and I had already been teaching for a year. My lesson plan was a shambles of copy-pasted clip art and irrelevant vocabulary. Having stayed up too late watching Netflix, I had neglected to give the plan sufficient attention, and my lesson reflected that. My students blew through the entire lesson plan in twenty painful minutes, after which I decided to switch to teaching the conditional. I prompted each student by saying "If I were… then I would…" and making lots of crazy, nondescript hand motions. Most were completely lost except for one student, who helpfully offered this correct sentence: "If I were teaching, I would do a better job than you."
In the moment, all I could say was, "Why, yes, that's correct."
That class reminded me of one of life's underlying lessons that I have struggled to maintain in touch with during my time at Wake Forest: the importance of humility. Without humility, we are cheating ourselves from an accurate view of reality. Humility is the reminder that we did not get here entirely by our own efforts. It is not a lack of self-esteem, no – it is simply a modest view of oneself.
This is a difficult concept to accept, especially in the United States. Our Provost, Dr. Rogan Kersh, will be the first to tell you that young Americans, especially the Millennial Generation, are prone to inflated self-confidence. We are each important to those that love us, but the fact remains that we are not THE most important. In fact, scientists tell us that the universe is constantly expanding in every direction, which means there is no center to the universe. Which also means, we are not it! Sometimes, we are a small part of a larger story in someone else's life.
To illustrate this, I'd like to tell you a story about a very educated woman who also happens to be a refugee from Syria. This woman was once a young girl growing up in urban Syria, who studied late into the night and was determined to be at the top of her graduating class. At 19, when a local man asked for her hand in marriage, she responded she would only agree if he would let her to go university and get her Ph.D. She went on to study German Literature abroad, get a Ph.D. in Business Management, and become a successful professor. Her entire life was changed when in one short year, she received three tragic pieces of news: her husband had been killed in a car crash, Civil War had broken out in Syria, and she was pregnant with her first child. Over the course of the next 8 years, she struggled to escape Syria with her family. Although she had previously earned a Ph.D. like so many of you in the audience, in her new country, she worked at a fast food chain. Nonetheless, she was early to every language lesson offered and was able to support both her mother, father, and two brothers who had come with her.
This incredible woman shares something in common with all of you seated here. She lived in Winston Salem. Her saga of triumph and tragedy brought her here, even on Wake Forest's campus, and into my English classes. Her example, for me, has been one of the greatest stories of humility and determination that I have encountered in my time at Wake. I never would have known her stories unless I had come across them in Humans of New York. Before she arrived in Winston Salem, she was interviewed by Brandon Stanton in Jordan, in a post that was liked and shared millions of times. In the interview, she said that no matter where she landed, she would learn the language and get her Ph.D. again.
We were all a small part of what is the epic tale of her life. There are so many people whose stories are never known, unlike many of us that are commended daily.
Even now, approximately 4,673 miles away, there is a person who is, in some ways, like me. Both of us have studied Italian as a foreign language, although it's my second and his fourth language. We are both terrible swimmers, we enjoy the books of Roald Dahl, and we both like our tea with 3 lumps of sugar. That man's name is Abdul Aziz Khan Durani. He is a 20 year old Afghan man, and we met while I was in Italy as part of a Richter Scholarship with the Italian Department. Aziz, the oldest brother of 5 siblings, was sent to Europe to look for a job at the tender age of 14. He proceeded to walk 4,000 miles from Jalalabad, Afghanistan, to Trieste, Italy, where I met him. The set of circumstances that surround our birth and upbringing label him as an "immigrant" in Italy, while I was merely an "expat." He is no less intelligent or hardworking, but life has led us in two vastly different directions. In the course of our 2-year friendship, I have often wished he could come to Wake Forest and be a student here.
There are hundreds of thousands, if not millions of people, who would do just as well if they were placed in our seats. There are students who could give better speeches than this one, and surely there are teachers who could teach the conditional better than I do. In fact, I think the audience today is full of them!
So how does this message relate to us at Wake Forest?
I grew up in Winston Salem, so Wake Forest has always been close to my heart. Before Wake Forest was my Alma Mater, I knew her fight songs, and wore her colors at every Saturday tailgate. As I matriculated, our relationship matured as the relationship between child and mother does: I no longer saw Wake Forest in blind adoration, but I accepted her faults and mistakes as human mistakes made by a human institution. The quality of this institution and student body has room to grow, and I believe humility should be at the center of that growth. It was Mahatma Gandhi who said, "The true measure of any society can be found in how it treats its most vulnerable members." That is certainly true on Wake Forest's campus, as in all places of the world. But first, we must identify who they are. How do we, as the student body, treat others with a different skin tone, or with a different religion? Do we acknowledge that gender and mental health can drastically affect our college experience? Are our club Presidents aware that not every student can pay thousands of dollars in club fees and expenses? Many students are working towards a more self-aware culture, but I would say that most of us are not.
During my four years at Wake Forest, my understanding of our motto of Pro Humanitate has evolved. I have realized two things. First, Pro Humanitate is not just a guideline, but a mission. We have to actively seek out opportunities to serve and understand others, because they will not just fall into our laps. Sometimes that means discomfort, and it almost always means work. Secondly, our humanitarian efforts should start in self-reflection at home. Each one of us contains a spark of humanity, whether you are here or in rural Afghanistan or rural Iowa. How are we acknowledging the human struggles of other students here on our own campus? By humbling ourselves, we can lift up others who deserve the same opportunities, and share in common humanity.
We will not always be the best at what we do, and frankly, that is okay. Instead, Wake Forest has taught me that while we should strive for excellence, we should also strive to recognize the excellence in others. Thank you.