by Kaitlyn Fox ('23)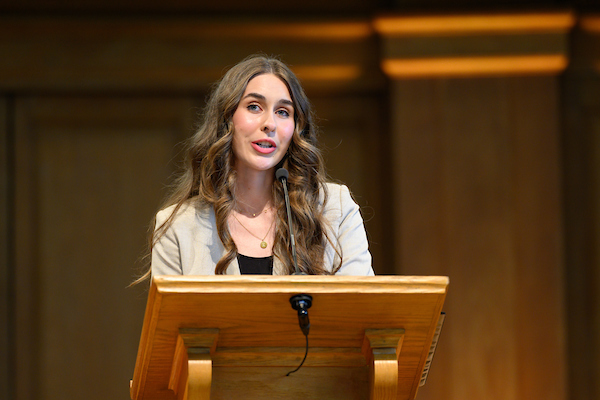 Picture this: Students losing their voices at the last home game of the season, RAs protesting for COVID-safe housing policies, a sorority sister gazing into her boyfriend's eyes at a date function, Polo Road filled with smoke from the fertilizer plant fire, a mother embracing her new graduate on Hearn Plaza, my roommates' final bow on the Tedford stage… These are the moments that I will remember when I look back on my time at Wake Forest; not just because I lived them, but also because I captured them.
I started as a photographer in middle school when my parents let me use their camera on vacation. I spent all of my free time attending sporting events and school performances, thrilled to be a yearbook editor in 9th grade. Naturally, when I arrived at Wake Forest, The Howler was the first organization I joined and now I'm proud to serve as the Editor-in-Chief for my senior yearbook. Curating the year in one publication, my job is to figure out who we are and how our staff can represent the character of the graduating class. I've also filled eleven-hundred gigabytes of my hard drive with tens of thousands of photos capturing the spirit of campus these past four years.
While the photos make each yearbook unique, it's the stories they tell that I love the most. Some of my favorite memories are sitting with my parents flipping through old photo albums and judging my Grandma's beehive or later, my mom's mullet. Hearing her talk about their hand-sewn, matching mother-daughter outfits and how important personal style was to my Grandma Janet makes the photos all the more meaningful. Just this past winter break, I cracked open my dad's college yearbook and was mortified to find a shirtless pic of him and his best friend Billy running laps around the track. He loves that photo. Well, my mom got rid of her mullet, and the track got ripped out of the football stadium, but I'm grateful for those tangible reminders of how we have matured and evolved.
Recently, I've spent time with past editions of The Howler up in the yearbook office, reflecting on how Wake Forest has evolved since the first publication in 1903. I found poetry, short-lived clubs, and even photos of my professors from the time when they were students. But not everything was as pleasantly nostalgic. I also found distasteful party themes, blackface, hate speech, and more. ZSR Special Collections has cataloged the fact that almost half of Wake Forest yearbooks feature instances of Insensitive or Discriminatory Content, some as recent as 2007. Patterns of racism, sexual violence, and an abundance of hate appear again and again in our past and present. Wake Forest acknowledges its mistakes and past failures to fulfill our promise of Pro Humanitate; we recognize that there is still work ahead to effectively model good character for our students.
… We have a lot of power to shape the historical narrative.
As we create the yearbook, we have a lot of power to shape the historical narrative. Often, I'm tempted to characterize our time positively. But, while I have built incredible relationships and learned much about myself and my discipline, there comes a time in every student's life when college sucks. In reflecting on and documenting our time, I'm faced with the challenge of balancing these varied experiences to craft a cohesive and credible narrative for preservation in the 120th edition of The Howler yearbook. How do we chronicle our successes and shortcomings with sensitivity and attempt to tell the full story of an entire year in just 200 pages? Do we memorialize instances of cyberbullying? Do we include the DKE emails? Do we exclude Greek Life entirely? How do I keep our tenure-less advisor from losing her job without sacrificing my editorial vision and desire for honesty? What even is honesty? Who even cares about the yearbook? Well, me. And hopefully my kids. Someone's future biographer. And whichever historian draws on The Howler as a primary source for analyzing life at Wake Forest in 2023.
It has been a privilege to view our campus through my camera lens, and my photos tell the story of a creative, loving, dynamic organism sprawling with intellectual thinkers and passionate changemakers. This side of Wake Forest is central to understanding who we are as a community. I am constantly impressed by my peers and reminded of our shared humanity whenever I get to witness a project or initiative they've poured their hearts and souls into. Wake Forest cares. We celebrate each other's successes and console each other in times of failure or pain–of which we've had plenty. I've documented the COVID-19 pandemic which thrust us into uncertainty, threatened our safety and well-being, and sent me, for one, into a depression. Countless instances of sexual assault and racial violence have disrupted life for too many students across this campus. And yet we show up and rally for our friends, even when the administration hasn't. I have witnessed the power of collective care, and how the compassion of a few people can sustain the many in need of it. That is the embodyiment of Pro Humanitate. These actions define who we are and who we will become. And I know our class has the potential to continue this Wake Forest tradition of service and care into our futures.
As we create our legacy, we should aspire to live up to these values and learn from the mistakes we've made along the way.
Working to document the past four years has prompted me to reflect on how we will be remembered, and who we will become. For better or for worse, institutions will disappoint us and, at times, college just sucks. I find comfort in knowing that the individuals–individuals who support, who care, who strive for change–make it bearable. They make me proud to be a part of this community. The mission of Pro Humanitate draws special people in, and Wake Forest shapes us into extraordinary individuals. We all wrote the admissions essays and completed our divisionals. Everyone has a superior resume thanks to the OPCD and is probably involved in just enough activities to demonstrate well-roundedness in interviews. Each and every one of us has the capacity to achieve greatness. My hope, however, is that we strive even more diligently to do good. Not do well, or "exceed expectations," or be "a pleasure to have in class," but to perform acts of kindness, to truly live in service of humanity, and to contribute to the greater good. As we create our legacy, we should aspire to live up to these values and learn from the mistakes we've made along the way. I hope that we continue to hold ourselves and our communities accountable to the values we came here to learn and live out. I hope that we will be remembered for what we accomplish that goes far beyond ourselves. At the very least, when my kids pull out The Howler, I hope I'll be proud to sit and tell them about who we are at Wake Forest.