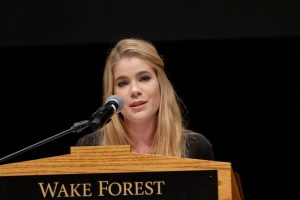 My Creative Nonfiction Workshop was a lesson in both writing and introspection. The professor's frenetic cerebral energy stimulated our classroom often as we discussed contemporary nonfiction and the personal essays of our peers. "This piece has a strong 'I,'" our professor would say. He encouraged us to establish ourselves as the protagonist in our nonfiction stories, giving the reader insight not only into our voice, but also into our character. This narrator-character is known as the literary "I" in nonfiction writing, but it extends beyond the page. In writing a personal narrative, we conceive ourselves as a writer, and consider ourselves as a reader. By examining myself through a narrative lens, I have come to understand the person I have been my four years at Wake Forest.
As my I write my Wake Forest narrative, I know there are moments I will choose to remember, and moments I will forget. I learned in a psychology class that memory is flexible. As we reconsider our lives, we rewrite our stories. Some of this process occurs on a subconscious level, but I believe we can create our "I" consciously.
I have heard that the human brain clings more readily to the negative than the positive, but I try to view my college experience with retrospective optimism. My story would have been meaningless without conflict. If I had never felt lost and alone, I never would have found my path. I learned from my challenges, but I do not dwell on them. The lonely nights of my freshman year, when it seemed like everybody but me was participating in Greek Life, will all blur together. There will be nothing left but a vague notion that I once felt like I did not belong at Wake Forest.
I will, however, remember the feeling of panic that hit me as I sat in my 9 a.m. class, the first semester of my freshman year, and realized that I had left my laundry in the washer. Afraid that a well-intentioned 18-year-old would put my line dry sweater in the dryer, I ducked out of the classroom. I started to run in front of the first-floor window where the history class I had abandoned was still in session, then screeched to a halt as I realized I could further incriminate myself. I recalculated my route and ran to my dorm by a different path, hung my sweater on a drying rack, and sprinted back to class, only to find my peers in the middle of a pop quiz.
I will remember the Concert Choir's last night in Dublin, as we rode up a winding road to our final meal as a touring ensemble. Dr. Gorelick, our conductor, told us he chose our tour guide because of his beautiful voice. Our guide saved his talent for that night, when he taught us the Irish folk song "Molly Malone." Under the cover of Ireland's dark night sky, we sang our most heartfelt performance. We sang all the way to our dinner, and all the way home, and slept with Molly Malone on our minds.
I will remember falling in love with French comic books, or bande dessinée, when I studied in Dijon, France. Every day I would go to the bookstore to purchase the next book in the series, and at night I would devour the story. If I wasn't traveling, sightseeing, or wandering the streets of Dijon, I was pouring over these books, in the picturesque bedroom that overlooked my host family's garden. Two years later, thanks to a university grant, I was experiencing a bande dessinée festival in Lyon, France, as an American researcher with a passion for French pop-culture.
I will forget the stress of finals week. I will forget the feeling of failure when I dropped a class that was too difficult for me.
The moments of my struggle built me, but they have already begun to blur and fade. I build my narrative around moments of clarity, the moments of humor and wonder, which are distinct in my memory.
My Wake Forest narrative is the story of an 18-year-old girl, who traveled over two thousand miles from her doorstep in Reno, Nevada, to come to Wake Forest University. I did not understand Southern culture – I once thought, "bless your heart" was an invocation on my behalf, but I somehow created my story among the chaos of college life. Wake Forest was where my love of France was ignited into passion, and where my writing became a key component of my identity.
Wake Forest is a part of your story, and as we prepare to embark on the next chapter of life, I invite you to consider your Wake Forest "I." How will you remember your college self? What are the memories you will cherish? The beauty of memory is that it allows for minor edits. I find comedy in the moments of confusion, occasionally glossing over my struggles in favor of successes. I can include my favorite characters, like the professor whose long-winded stories made me laugh, and the campus employees who always remembered my name. I will highlight the roles of my friends and mentors, and downplay the role of those who hurt me. Editing is just as important as the writing itself. I can soften my memories of sorrow by celebrating the person my struggles helped me become.
As we graduate, we are in a room with thousands of stories. Each story is unique, but with one thing in common: they all intersect at Wake Forest. Some stories are unconventional, some are funny, and some are sad. But they are equally important. The Wake Forest "I" is a fusion of solidarity, empathy, diligence, and innovation. Our Wake Forest "I"s will provide the foundation for the "I"s we become. These narratives will be our legacy, and our Wake Forest memories will function as companions for comfort and introspection in years to come.